I'm half thinking about how this blog would continue. I still need this for practising my web-designing skill, but lately I prefer Livejournal better, since it especially link between users and allow you to join communities as well as tagging the comments. Besides, I don't have enough time anymore to experiment with new layout. Here's my Livejournal link:
http://moccy.livejournal.com
Feel free to drop by
@ 01:41 p.m.
Iceman!
Finally I got the full version of the Iceman's Shining Collection live performance. I've loved this song so much since I watched Gravitation OVA and the scene, lyric, and meaning was so deep and touching, showing how great Yuki's feeling to Shuuichi. I consider this as the second most romantic song (not in term of melody) from Gravitation.
The live performance itself is GREAT! The music was soooo lively, the stage was 'burning' (yeah, both Daisuke Asakura and K. Ito were wearing some long, bright red leather coat), and although Michihiro Kuroda was wearing black leather outfit, he was absolutely the HOTTEST!!!!! OMG! That sleeveless shirt plus the leather ropes around his arm made him looked just AMAZINGLY HOT!!!!! His voice was powerful without defect, as powerful as the recording and his style was just *once again* HOT! I just love the reff very much. The lyric, the voice, and the singing style on the refrain part made Shining Collection shines inside the audiences. And somehow, with that outfit and hair style, Michihiro Kuroda looked like B'z Inaba Koushi..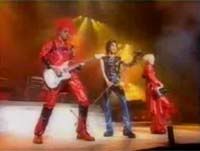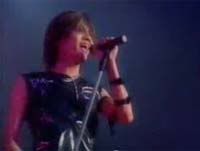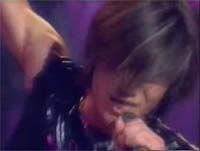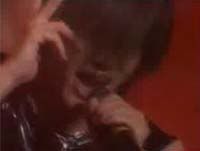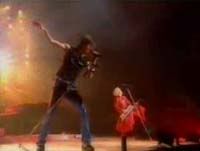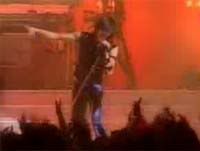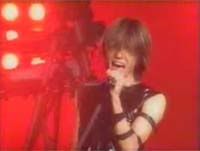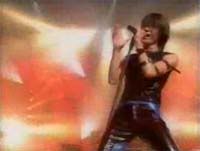 Kiss shining.. hitomi ni kuchizukete
Tokedasu hanabira mo jama ni naru
Make me shining.. irozuku shigeki no hate ni
Kagayaki hajimeta maboroshi
(Kiss shining... I kiss you in your eyes
With the melting flower petals in my way
Make me shining... at the end of this colorful excitement
an illussion begins to shine)
@ 01:18 p.m.
On Athrun Zala x Cagalli Yula Attha Relationship
If you knew Gundam Seed, by reading the title of this post you must have known that I'm currently addicted with Gundam Seed (and Destiny)! OMG! Now I know why Athrun Zala caused a great addiction to majority of Seed's fangirls. I'm also one of those who captured by his charm.. hahaha... I like him since Seed but love him more on Seed Destiny. Before I watched Seed Destiny I've read everywhere talking about Athrun as a womanizer or gigantic magnet to girls on Seed Destiny.. I thought I might not like Athrun anymore because I love Athrun x Cagalli. BUT! ... he is just irresistable!! *grin* Now I know why Meer, Meyrin, and Lunamaria have fallen for him.. :D (oh, and not to mention even Shinn).
*WARNING! The content below may be a major spoiler for Seed and Seed Destiny.*
I actually haven't finished watching Seed Destiny, but I'm fastforwarding it just to find out the truth about the rumoured ended relationship of Athrun x Cagalli. Honestly I prefer Athrun x Cagalli more than Kira x Lacus although I also love them. At the first few episodes I love how Athrun protected Cagalli so much, but rather disappointed when he decided to rejoin ZAFT and even accept Dullindal's offering to join FAITH, while Cagalli tried hard to protect ORB but she had lot of pressure from the other Emirs.
Later after Shinn stroke Athrun and Meyrin's mobile suit down, at Archangel Athrun kept on asking about Meyrin although Kira had told him that Cagalli cried when saw him injured. Even when Cagalli was beside him, he still asked for Meyrin! I'm more disappointed when Athrun recalling his memory with Meer while talking with Lacus.
But after watching phase 45, when Cagalli left Archangel (and left Athrun since she was not wearing Athrun's ring again), I was kinda relieved (although also kinda disappointed) and I believe this is not their end. Here are my thought:
1. Athrun is sure still have some feeling to Lacus. However they have engaged since they were little and there is no way he can wipe that feeling so fast especially after he met Meer. If he had totally devoted himself to Cagalli he should deny his engagement with Lacus because afterall Patrick Zala had announced that Lacus Clyne was a traitor and no longer Athrun's fiancee. But he just couldn't do that.
2. Athrun and Cagalli both are child of the previous leader of their country. Athrun's existance for Cagalli can be a burden for Cagalli as long as Earth still have hatred towards PLANT. Cagalli herself is still so unprepared for leading a neutral country and at the beginning still have could not take the right decision for ORB. Athrun himself is still burdened by his father's wrong idealistic and still think that he has to do something to elliminate that idealistic.
3. As long as Cagalli wearing Athrun's ring, she still dependent on Athrun and need him as his protector. Cagalli was not wearing Athrun's anymore not as her rejection but as a symbol that she is now able to make decision on her own without having to depend on other's protection again. She has to concentrate to lead ORB back to its ideality.
4. When leaving Archangel, Cagalli said to Meyrin "Aitsu tanomu na.. watashi wa issho ni ikenai kara" which mean "Please take care of him (while I'm gone/in my place) because I can't go together with him".. so she is not giving Athrun to Meyrin. If so, she should had said "Aitsu yoroshiku onegaishimasu".. I think.. :) She only asked Meyrin to take care of Athrun since she had to concentrate for ORB and might not be able to meet Athrun again while Athrun will go in the war once again.
5. Athrun however still had his feeling for Cagalli. He was kinda surprised to see Cagalli not wearing his ring anymore, but he said "Ii'n da na.. ima kore de... yume wa onaji dakara (It's alright, let it be this way for now.. no need to hesitate because our dreams are same)". Athrun knew well the situation Cagalli was facing and he knew that it was the best for them both to be that way: Cagalli is back to command ORB for world peace and Athrun is fighting with Archangel to support ORB. They both have a dream for peace between Natural and Coordinator and that is the way they're going to realize that.
6. Unless PLANT is led by a very trustful person, ORB, PLANT, and Earth are so difficult to gain peace and it's more impossible for Athrun to be beside Cagalli (c'mon, wearing the name Alex Dino and have to deny your true name and existance is a burden too). I have not watched Seed Destiny OVA but I heard that Lacus is the new leader of PLANT. If so, I believe there will come the day when Cagalli, who must have been much more matured, and Athrun, who has find his answer in all of these wars, to be united once again.
5. Unless Meyrin, they are no other women for Athrun (Lunamaria ends with Shinn and Meer is dead)
So, unlike most of the Seed fans who reject the possibility of Seed 3, I'm supporting Seed 3 with all my heart, as long as they make Athrun back to Cagalli.. I will definitely kill Meyrin if she ended up with Athrun.. *grin*
@ 02:50 p.m.